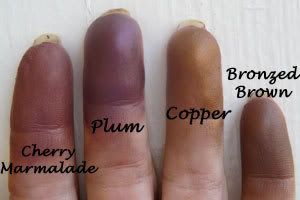 Things have been a little quiet from me. It's not that I haven't had anything to say, but because I've bee
n a busy little bee behind the scenes working on the new Cream to Powder Eye Shadows that I've posted about.
For those of you who are hearing about these for the first time, these cream to powder shadows will like MAC Paint Pots meet pressed mineral eye shadows. They are a soft solid (you could put a fingernail in it), that you apply using a firm eye shadow brush, sponge, or even your fingers (my preferred method). As soon as it comes in contact with your skin, it immediately feels like a velvety powder with tons of staying power. I'd venture to say that they're nearly waterproof, as they won't wash off my fingers without using soap! The shadows can be as pigmented as you want them to be. One layer will give a soft and subtle look, but let it sit for a few seconds and add an additional layer and you'll have a deep, rich color.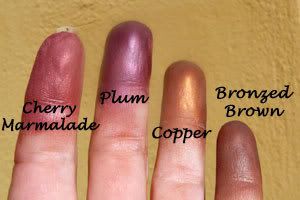 I've nearly narrowed down my shades, but would love your feedback. Here's a little slide show of the colors I've developed so far (I've discovered that I am
NOT
good at photography like many of the beauty bloggers out there)! I've shown the shades both photographed with sunlight and without so that you can better see the subtlies. Click
here
for the slideshow; I can't get the darn thing to work right :(
I'm just waiting for the palettes to arrive before these go up for sale. They will be available in a 10 shade palette (shown in the
Pressing Mineral Eye Shadows
post) as well as a dual shade compact. Please give me some
honest
feedback on these shades. Good, no good? Which do you like best? Any that I should dump? I'm still working on colors; a bright purple will most likely be added to the line. Are there other colors that you feel are "must haves" that I'm missing? This is
your
chance to help form a product line!