The other day, Vanessa did a post on her
blog
about pressing her eye MAC pigments. Unfortunately,
alcohol
won't work on mineral eye shadows - they become hard as a rock and brittle as can be. But it got me thinking... I have all these palettes coming in for the new cream to powder shadows (hopefully, it will be on the website in the next couple of weeks):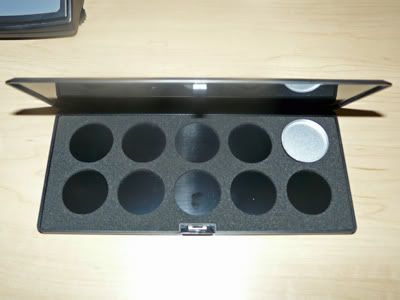 What if I end up with a whole bunch of these, and nobody buys the new shadows? It's not too likely though, as they are very cool! I started thinking about pressing shadows as an option for you guys, since everyone seems to be in search of a way to do it - or offering the palettes and tins empty so you can do your own. If you read Vanessa's post, you'll see she made a huge mess! Not being able to use alcohol, and trying to avoid using any dimethicone, I played around with her idea using Jojoba oil. OMG, my thumb hurt so bad putting the pressure on it!

I thought to myself there HAD to be a better way. I'd have arthritis before finishing even one palette! I wandered through Lowe's looking for something round I could use to press into the tins, but to no avail. And the guy who worked there looked at me like I was nuts when he asked if he could help me, and I told him I wander around hardware stores looking for things not for their intended purpose (didja know Slurpee straws make excellent scoops for those 22 Eye Shadow packs?). I could just hear him muttering "women" under his breath. Today, I found myself next to an OSH hardware store, so decided to give it another stab. Up and down every aisle of the store holding my lone sample tin against anything round and flat. 3/4 of the way through the store, a woman employee asked if she could help me. Laughing, I showed her the tin and told her what I was hoping to accomplish. We were on a mission! She was determined to help me find something that would do the trick and not cause arthritis or tendinitis in the meantime. Dowels for closet rods? Nope, didn't fit. The little round thingies with nails that you put on the bottom of chairs? Ugh - close in size, but no cigar. Then we hit aisle 17B, and Eureka! Cork! Found a perfect diameter!

I'm not sure whether I'm going to be doing pressed shadows, but I am fairly certain I'll be offering the palettes and tins empty for those who want to do their own. Don't ask me how much I'll be selling them for - I'm not mentally there yet, but most likely it will be under $10 for the empty palette and 10 tins. Whether you use a dimethicone based binder (I'm opposed to dimethicone is cosmetics in general, but it isn't so bad for the eyes - kinda hard to clog those pores), alcohol on your overpriced MAC pigments (sorry, couldn't resist the stab), or jojoba oil, here's how I pressed mine.

What you'll need: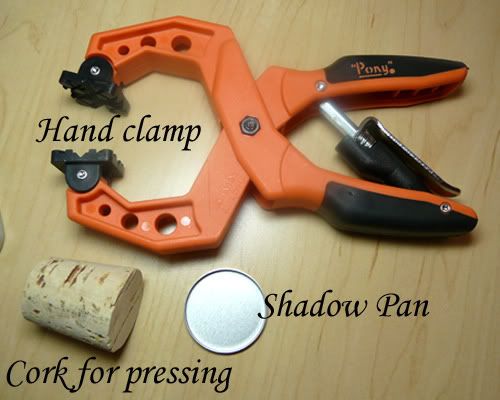 Empty eye shadow tins (the one's I'll be getting are 35mm)

Hand clamp (this one is a cheap, lightweight plastic one that doesn't take any strength to open and locks closed)

Cork (1 3/8")




Mix your shadows with whatever you're using to bind them together. For me, I used 1 tsp of eye shadow with 1-2 drops of jojoba oil. Mix them up in a small ziploc bag by squishing in between the palms of both hands until all the powder has been coated: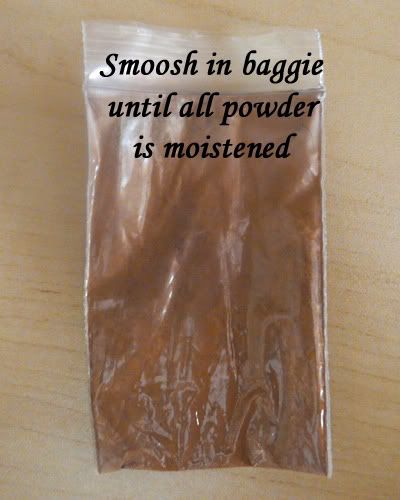 Cut a corner of the baggie, and pour the contents into the tin (I didn't use all of it because it looked like it would be too much; I was wrong). Then wrap the cork in plastic wrap and place on top of the tin: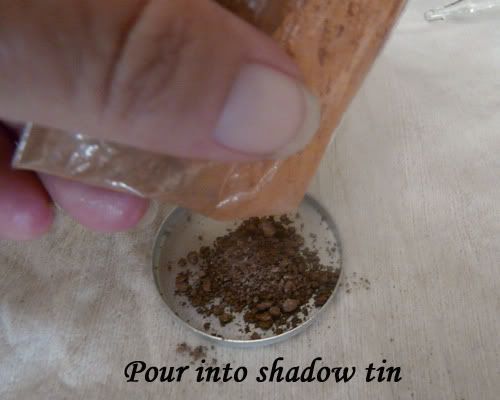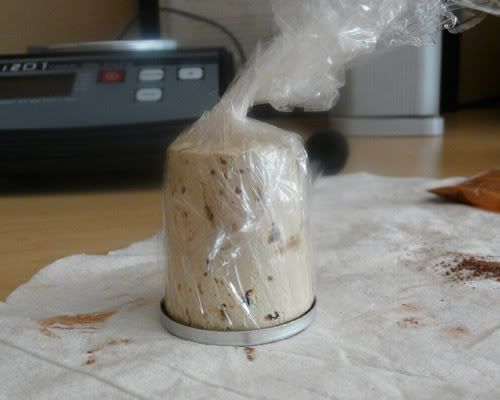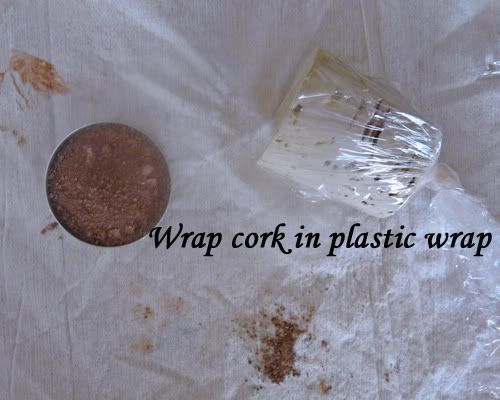 Insert into the hand clamp, and let sit for a few minutes, and voila!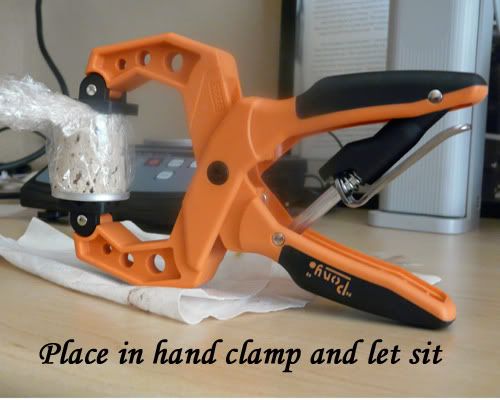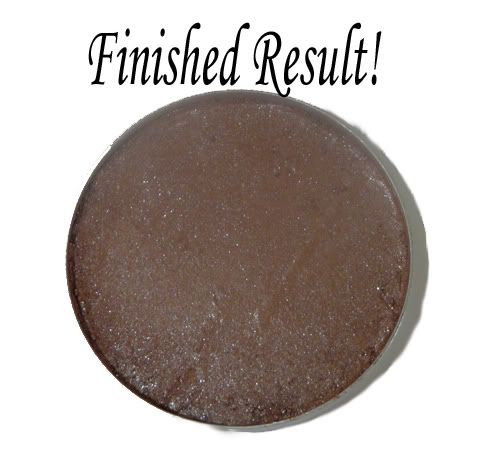 Because I used jojoba, it doesn't dry as fast as
alcohol
would. My first attempt after reading Nessa's post, it took a few days to dry. This time, I popped the tin into the oven at 400 degrees for about 45 minutes (or however long it took me to finish this post). It's almost dry. Should be by morning!